BANA Logo/Slogan Contest
Vote here for your favorite Bel Air logo or slogan. You can also vote in person at the BANA Annual Meeting (April 24th, 6:30 PM - 8:00 PM) at the Christian Fellowship Church.
Calendar
BANA Annual Meeting
Tuesday, April 24, 6:30 - 8 PM
Christian Fellowship Church
Meet your neighbors and vote for your favorite submission for the neighborhood logo contest.
On-line voting for neighborhood logo contest closes
Tuesday, May 1

Logo contest winner announced in Summer newsletter
Week of June 25

About the Neighborhood
Scroll down to view our by-laws, officers, and meeting minutes.
One of the city's oldest neighborhoods dating back to the 1950's, Bel-Air is the size of a small town, enclosed between Carlisle and San Mateo, Candelaria and Menaul.
The neighborhood contains frame and stucco homes, others of cinder block construction, and many others are custom built or refurbished original designs.
Bel-Air is laid out in a grid pattern with back alley-ways which give access to large backyards. It is a highly liveable area.
Map
Click here for a full screen map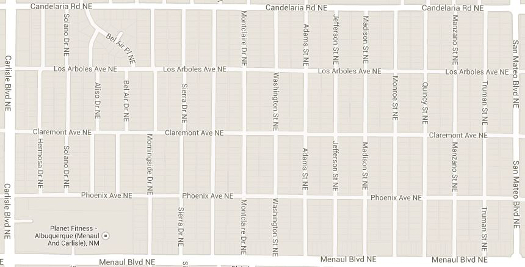 About the Neighborhood Association
Purpose
The Bel-Air Neighborhood Association (BANA) was formed in 1994 to create and maintain a safe and clean environment and to strengthen property values.
The purpose of the Association is to enhance that area of the City of Albuquerque, Bernalillo County, State of New Mexico bounded on the West by Carlisle Boulevard, bounded on the North by Candelaria Road, bounded on the East by San Mateo Boulevard, bounded on the South by Menaul Boulevard; hereinafter referred to as the Bel-Air area, to promote a better neighborhood and community through group action, so that the quality of life in the area shall be in keeping with the social, environmental, cultural, historic needs and interests of the residents.
To this end, the activities of the Association shall include, but are not limited to, sponsoring cooperative planning, research, fund raising and public education progress as they are deemed necessary.
2016-2017 BANA Board of Directors
Amy Henne, President
Barb Johnson, Vice-President
Jeanene Witt, Secretary
Hart Lewis
Rose Nava
Kelly Price
1 VACANCY
By Laws
View/download the Bel-Air Neighborhood Association By-Laws
Meeting Minutes
4/24/2017: General Meeting Minutes
4/18/2016: General Meeting Minutes
9/18/2014: Board Meeting Minutes
5/21/2014: Board Meeting Minutes
4/28/2014: General Meeting Minutes
3/10/2014: Board Meeting Minutes
4/30/2013: Board Meeting Minutes
4/22/2013: General Meeting Minutes
4/01/2013: Board Meeting Minutes
10/22/2012: General Meeting Minutes

Membership
Your membership support is very important. BANA is supported entirely through memberships. See how.
Annual Residential Membership ($10)
Annual Business Membership ($25)